Date: Saturday 15th September
Venue: Deer Park Cafe, 2 Deerpark Drive, Vredehoek, Cape Town
Time: From 5:30 pm - 10:30 at The Deer Park Cafe, a couple of talks throughout the evening (nothing formal - just some idea-sharing).
Price: Free to attend, just pay for your own drinks and food
Sponsors: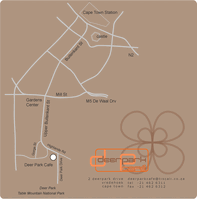 Who's Helping Out: Add your name to the list if you can help out - the more the better! Contact Dave (the guy at the top of the list) by email with ideas or sponsorship
We need help fulfilling the following vision:
Gather about 100 people who have a shared interest in open-content and free-digital-culture in SA.
A cocktail party - snacks and vino
Some live music
Some talks (contact Dave@huddlemind.com if you'd like to book a 5min speaking slot)
WikiMania 2008 Bid
There will be a short meeting beforehand (starting just before 5pm?) to discuss the Cape Town WikiMania 2008 bid - please come along if you're interested.
Music
We have four musicians playing on the night:
Anybody who can help out with sound equipment, let us know. We need:
More microphones. You can never have too many mikes.
Leads. Lots of leads. We're always running out of leads.
A sub woofer with an amp to drive it. (>= 1kw)
An active crossover would go nicely with the sub but not essential.
DI boxes.
What's needed?
Some people
Any sponsorship that will add value to the experience
It's free to attend, but there are Party Rules
Who's coming?
Limited to 100 people - if you can't make it, please remove your name from the list so others can sign up...
Sarah Blake
Jimmy Wales
Melissa Hagemann
Isa Jacobson
Eric Edelstein
Shelly Levin
Gavin Levin
David Mackie
Francois Loubser
Helen King
Andrea Milwidsky
Katherine de Tolly
Mark Widdicombe
Adele Coetzee
Deon Erasmus
Tink Duncan
Kevin McCauley
Tracy Baving
Thomas
Lesley Andrews
Catherine Lückhoff - MANGO-OMC.COM
Karen Bruns
Bradley Knight
Lisa Petrides
Eugene Smit
Lonwabo Jobodwana
Buntu Fihla
Karien Bezhuidenhout
Ahrash Bissell
Philipp Schmidt
Joy Olivier
Delia Brown
Sam Christie
Adeline Biro-Levescot
Thabo Mukwevho
Jeanette le Roux
Canda Kincses
Wilbur
LeoN Nortje
Christiaan Stroebel
Tanya Odendaal
Dominic Riordan
Jaco Konig
Johann V. Coetzee
Darren Nesbitt
Frauke Stegman
Brian Benatar
Qhama Dayile
Bryn Divey
Paul Muspratt-Williams
Angela Muspratt-Williams
Kristina Davidson
Carel van Gend

List is closed at 100 people. Thanks for the support everyone:) If you didn't make it onto the list, don't worry because there will be another (and then some!)
"Never doubt that a small group of thoughtful, concerned citizens can change the world. Indeed it's the only thing that ever has". - Margaret Mead
Community content is available under
CC-BY-SA
unless otherwise noted.